28th April 2008
Some days before start, all is ready. A big part of our equipment is arrived at F1JKJ'home in the south of France. He will carry on his car by ferry to Corsica, other team'members which lived in northen part of France will join Corsica by plane. The TK7C'suit for the team have been delivered at Thierry's home. You can see it on our two top model (F4TTR and F8BJI).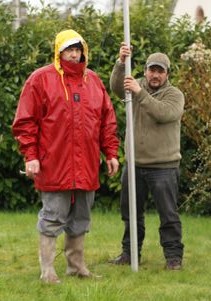 And the winner of the look contest: Thierry F4TTR (with F4EVR as antenna mast)

March 2008

Four members of the team bringing together at F6KOP about the expedition..

Left to right: F4TTR, F5AGB, F6BIV et F8BJI.

13th April 2008
It's with a very bad WX all along the two last sunday that we have assembled two of our Spiderbeam for the expedition.
One 5 bands and the 3 WARC bands; with participation of F4EVR, F4AJQ, F5AGB, F6AML, F6BIV, F8ATS, F8BTP and F4TTR all this people in the TTR's garden.